Visit From Lord Bach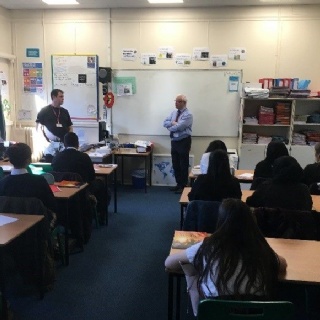 Students on Limehurst's Citizenship GCSE course were recently paid a visit by Lord Willy Bach. Lord Bach is the Police and Crime Commissioner for Leicestershire, and is responsible to overseeing policing in the local area. The Year 11 students had previously written to Lord Bach as part of their Citizenship studies, which require them to have examine the policing and the Crime Justice System.
Their letters expressed their views on crime and policing in the local area, and were found by Lord Bach to be articulate and considered. Lord Bach, alongside Inspector Dwight Barker, the Neighbourhood Policing Area Commander for Charnwood, spoke to the students about their respective jobs, their reasons for working in those roles, and their key tips for crime prevention in day to day life.