Send My Friend To School Parliament Event ​​​​​​​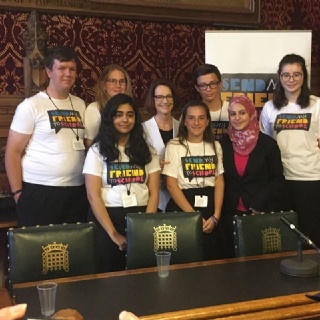 On the 13th September 2017, two members of Limehurst Academy's Year 11 Citizenship class attended Parliament, to lobby in support of the "Send My Friend To School" campaign. The cause aims to improve access to education in developing nations, by encouraging the UK Government to commit more of its aid budget to funding overseas education. Sophie Fahey and Aminah Chowdhury were selected to be two of a select group of advocates for the cause, known as "Campaign Champions". The campaign day involved the participation of 6 "Campaign Champions", representing 3 different schools.
The day started with an advocacy workshop, at the campaign's head office, in Vauxhall, facilitated by a member of Oxfam UK. The Campaign Champions then travelled to the Houses of Parliament to attend a meeting of the All-Party Parliamentary Group for Education, discussing the issue of overseas aid for education. The event was hosted by Steven Twigg MP, and had a speaker's panel which included Julia Gillard, the former Prime Minister of Australia, and Muzoon Almellehan, a Syrian refugee and UN Goodwill Ambassador. The event was also attended by key NGOs and campaign groups, such as Oxfam, Action Aid, and the One Campaign. As part of the event, Sophie sat on the speaker's panel and made an impassioned speech about the importance of education. The event was one of the final lobbying actions for the annual campaign, with other Campaign Champions attending the Labour and Conservative Party Conferences.