Author Kjartan Poskitt Visits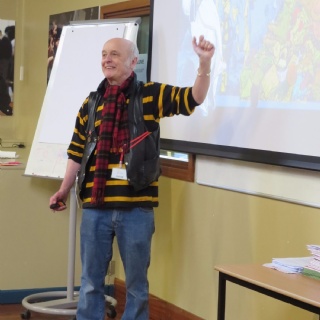 Kjartan Poskitt, British author and TV presenter best known for writing the Murderous Maths children's series of books, came in to school on Friday 3rd March as part of 'Limehurst Loves Literature' week. Year 7 and 8 students had a great time learning about his career, his crazy characters and his Murderous Maths books. He wowed with his magical maths tricks and had everyone laughing at his jokes!
Twenty lucky year 8 students were also selected to take part a maths workshop at the end of day; making fabulous 'Flexagons' and magic number squares to amaze their friends. The workshop proved to be a great success; inspiring enthusiasm for a subject that some might ordinarily find challenging.
Signed copies of Kjartan's books are available in the LRC with additional copies being added soon!