Visual CV Trip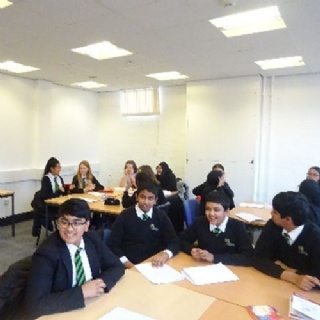 On Monday 17th December, 26 Year 9 Limehurst students went on a "Visual CV" event hosted by staff and undergraduates at De Montfort University.
The purpose of the day was to help our students learn more about their strengths and personal characteristics and how these relate to subject choice at Key Stage 4 and future career and learning options at the end of Year 11 and beyond. The sessions were highly interactive and fun and got students thinking about themselves in ways they might not have done in the past.
In the middle of the day we were taken on a tour of the campus which took in the brand new sports centre and swimming pool, student accommodation in a hall of residence, the art and design building and finally the student restaurant. DMU treated all of us to a lunch worth £5 which was greatly appreciated and gave our students a first hand experience of eating in a typical student and staff cafeteria.
The day concluded with a focus on team work skills and a competition to find the team that could produce the most Christmas cards to a very strict design brief. Each team elected a team leader who could guide their team but had to abide by strict rules on how this could be done. Congratulations to the successful team – each member won a very snazzy DMU portfolio and notebook.
All of our students were asked to provide feedback on the day using a "Who wants to be a millionaire" style electronic feedback "buzzer" system. As the results attached below show it was a very enjoyable and productive day and will help these students to plan for GCSE option choice coming up soon.
Some photos of the event also show our students engaging and enjoying themselves.