PE and Sport - December News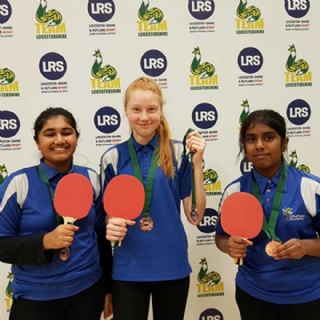 Hello and welcome to the update from PE!
As you know our fixtures mainly focussed around netball and football before half term. Since half term we have had basketball, table tennis and more.
Thanks to all students who have taken part and thanks to all of the PE staff who have run the fixtures.
Merry Christmas everyone,
From
Mr Croucher, Miss Mottram, Mr Robinson, Miss Taylor and Mr Williams
Table Tennis - Boys
Our under 16 boys took part in the Leicestershire table tennis championships. These were at Judgemeadow on Thursday 15th November. The Limehurst boys qualified for these championships by winning the North Charnwood tournament back in September! Our team performed brilliantly and finished 4th overall - 4th in the whole county!
Well done to Kieran (yr9), Umar M, Umar U and Nuri (all yr11).
Table Tennis - Boys
Serina (y9), Muntaka (y9), Libby (y10) and Hanisha (y10)
Our girls under 16 team went to the Leicestershire championships on Thursday 29th November. We were able to represent north Charnwood at these county championships due to winning the Charnwood championships back in September!
We lost to Leicester Grammar and Manor School but then beat Crown Hills and South Charnwood. These results meant we finished 3rd overall, our highest ever finish at these championships!
Basketball
Our basketball teams have been taking part in the North Charnwood tournaments, all held at Rawlins Academy.
All of our teams have played really well and in some cases come up against really tough opponents. Most importantly, our students have been really respectful and positive and as a result have represented our school well.
In all results below you see our pool games and then our final overall result.
Boys Year 11 Basketball – Thursday evening, 15th December.
Game 1 v Rawlins B = 29-9 win.
Game 2 v Charnwood = 25-30 loss.
Game 3 v Cast Donington (3rd and 4th place play off) = 23-23 after extra time!
As a result we tied for 3rd place overall. Well done, gentlemen.
Girls Year 10/11 Basketball – Wednesday evening, 21st November.
Game 1 lost 36-6 Rawlins
Game 2 drew with De Lisle 10-10
Game 3 lost to Castle Donington 25-4
Game 4 lost to Amherst 19-6
We came 5th overall. Well played, ladies.
Boys Year 10 Basketball – Thursday evening, 22nd November.
Lost to Rawlins A.
Beat De Lisle.
Beat Woodbrook Vale.
3/4th playoff we beat Iveshead and as a result finished 3rd overall. Well done, gentlemen.
Girls Year 9 Basketball – Wednesday evening, 28th November
Lost 15-7 against Rawlins.
Lost to Dr Lisle 15-1
Won v Iveshead in the 5/6th place play off 8-6 and as a result finished 5th overall.
Well done ladies.
Girls Futsal – Tuesday evening, 4th December
Our year 8/9 team travelled to Iveshead to take part in the North Charnwood Futsal competition. We played two pool games and although our girls played really well we lost against De Lisle and also against Charnwood. Playing for 5/6th place we beat Iveshead and finished 5th overall. Well done girls.
Inclusive Sports hall athletics event – Friday 16th November and Friday 7th December
On Friday 16th November we took a team of students to Crown Hills Community College in Leicester. Our students competed in a range of indoor athletics events. All of our students were year 7 and they competed against students in year 7, 8 and 9 from 16 schools across Leicestershire. Our students were a real credit to our school and community – it was a pleasure taking them!
As a result of amazing performances two of our students were selected to take part in an all-star team at the county event, held at Aylestone Leisure (as this article was sent for publishing we will update you about this in the new year).
Please note – at the time of going to print the following events had yet to take place but we did compete in them:
Year 8 girls Basketball (Wednesday evening, 5th December)
Year 8 boys Basketball (Thursday evening, 6th December)
Year 7 girls Futsal (Tuesday evening, 11th December)
Year 7 girls Basketball (Wednesday evening, 12th December)
Year 7 boys Basketball (Thursday 13th December)
Year 9 boys Basketball (Tuesday evening, 18th December)