What is University?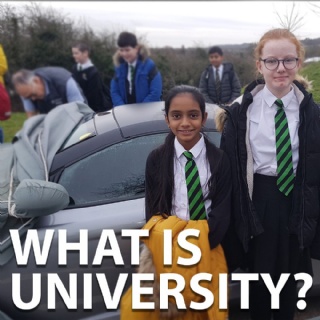 On Wednesday 8th January, 29 year 7 students from Limehurst attended a "What is University" day at Loughborough University. The aim of the day was to encourage our students to think about higher education as future option.
The day kicked off with all the students completing a questionnaire about their interests and learning styles and the results of this were reported back to them at the end of the day. This was followed by various team-building activities which took place in one of the very impressive sports halls at Loughborough University. Our students were all keen and enthusiastic participants in the activities.
After lunch, the students were split up into three groups and were taken for a tour or the campus focussing on subject areas in which they had expressed an interest. These included design & humanities, sports and STEM. The tours included an opportunity to talk to current students about their degree courses and university life in general. We were shown some very impressive facilities and resources including workshops, laboratories and sports/gym centres.
Hopefully, the day itself gave our students a good insight into the opportunities available at University and inspired them to think about some of the future courses and careers they might wish to pursue.
The photos below give an insight into the activities that our students took part in on the day.