Stephenson College Experience Day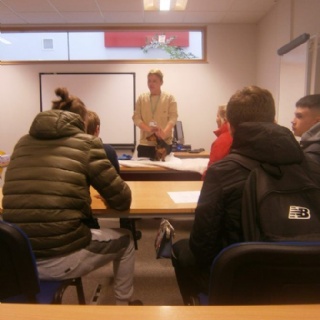 LIMEHURST YEAR 11 STUDENTS TAKE PART IN STEPHENSON COLLEGE "EXPERIENCE" DAY
On Friday 4th October, three Limehurst Year 11 students took part in the "Experience" Day at Stephenson College. The students: Mylee Rooney, James Hutchinson and Maddoch Fox all took part in a series of taster activities designed to give them an insight into the sort of courses and careers that could be on offer to them after leaving Limehurst in 2020.
We were really proud of the way our students took advantage of the opportunities and contributed to each of the activities. Although not all of the taster activities were of immediate interest to our students, the aim was to show them some of the courses that they could apply for which they might not have previously thought about.
The day kicked off with an introduction to animal care which prompted a lively discussion about looking after their own pets. This session, although very interesting and informative, did not convince Mylee, James or Maddoch that animal care was a subject that they would want to pursue after leaving Limehurst.
Of greater interest was the other sessions which they took part in which including metalwork and engineering, bricklaying and plumbing. They each produced an engraved metal name tag which they took home with them, built a wall in bricklaying and made a pressurised water pipe installation.
Miss Armstrong and Mr Farthing were very impressed with the quality of the work produced by each student and hopefully the day itself will have given Mylee, James and Maddoch a better idea of what courses and careers they wish to follow in the future.
The photos below give an insight into the activities that they took part in on the day.