Science World Project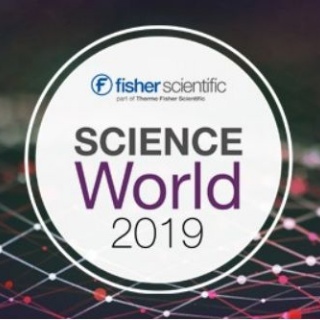 LIMEHURST YEAR 10 STUDENTS SUPPORT FOR THE THERMO FISHER "SCIENCE WORLD" PROJECT
On Monday 5th November, Liz Sewell, Rachel Dyer-Greeves and Emily Quinton from Thermo Fisher Scientific in Loughborough presented some of our Year 10 students with certificates for taking part in a "Science World" project.
The project dates back to the summer term 2019 when Thermo Fisher colleagues visited Limehurst to meet our Year 10 Triple Science students and to explain the programme to them. All of the students in the group were keen to take part in the project.
Roll forward to the start of the autumn term and the project kicked off with a visit to Thermo Fisher's premises in Loughborough on 4th September. The visit included a tour of the warehouse and facilities along with a description of what our students needed to do to prepare for their involvement in the next stages. Their first task was to design a T shirt with the focus on sustainability.
Back in school, the students worked in teams to come up with a set of designs, and Thermo Fisher staff attended a lesson to judge a competition that would decide which was the best design. The Thermo Fisher staff were impressed with the commitment and effort of our students and found it a difficult job to decide which was the best design.
T shirt design was just the beginning. T he staff from Thermo Fisher came into school for a lesson every week to work with our students on a range of activities including producing a digital quiz focussing on sustainability, designing posters for use on a display and helping our students to develop the skills to promote sustainability to other adults.
And the purpose of all this work and effort? On Thursday 10th October, our Year 10 students had to be at Limehurst for 7.15am to catch a coach to Leicester Tigers which was hosting a major "Science World" Fair organised by Thermo Fisher Scientific. This Fair had delegates from companies all over the UK and Europe promoting their scientific products to suppliers and customers.
A major part of the Fair was a "Sustainability Zone" which was organised and run by Limehurst students who had the responsibility of being "Sustainability Ambassadors" representing both Thermo Fisher and Limehurst. All of our students were wearing the T shirts which they had designed and had to set up and organise the Zone, including working in teams to promote the activities. These included the digital sustainability quiz, a "Pledge Wall" and a "Video Pledge" camera and screen. Our students did a brilliant job in ensuring that the Sustainability Zone attracted lots of delegates who actively participated in the quiz, pledge wall and video pledges. They showed superb energy, commitment and enthusiasm all day and pushed themselves out of their "comfort zones" when promoting sustainability to the delegates.
After a long day, we arrived back to Limehurst at 6.30pm feeling very tired but also feeling very satisfied and proud of the magnificent efforts of all 23 students who took part in Science World. Particularly pleasing was the congratulations and thanks from Thermo Fisher staff for the efforts of our students in contributing to the success of Science World.
Video and photos from the event and the activities leading up to it can be found on the Thermo Fisher Science World website at https://www.fishersci.co.uk/gb/en/events-exhibitions/science-world.html#genericTabContent1