"GIRLS INTO STEM" and "CREATIVE SHED" Trip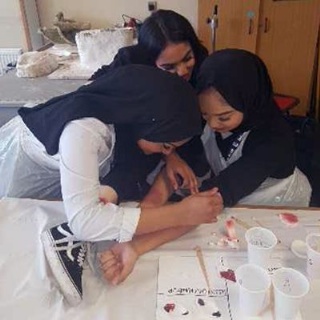 On 27th March 2019, 10 Year 9 students and 6 Year 10 students accompanied by Mrs Khodiara, Mrs Parr and Mr Farthing went on a "Girls into STEM" and "Creative Shed" events hosted by Leicester College.
These events aimed to give our students an insight into some of the future options available to them in STEM and the Creative Industries. Activities included learning about computer networks, fashion and footwear and artistic makeup.
The sessions were highly interactive and practical. Limehurst students worked alongside students from other schools in Leicester City and Leicestershire which was a really good experience.
We were able to take some photos of our students learning about artistic makeup and how fake bruises and cuts are designed. We were amazed at how realistic these were.