Powering Transformation Trip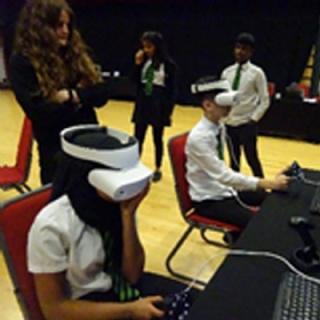 On Friday 15th February 2019, 30 Year 8 Limehurst students accompanied by Mrs Khodiara, Mrs Tyler and Mr Farthing went on a "Powering Transformation" event hosted by staff and undergraduates at De Montfort University.
"Powering Transformation" events are organised and run by Dell Computers in collaboration with Universities across the country. The staff and facilitators included senior Dell staff along with Undergraduates from our three local Universities. The main aim of "Powering Transformation" is to develop employability related skills amongst students including team work, problem solving and presentation skills. There is a strong focus on the use of advanced IT throughout the day.
The sessions were highly interactive and fun. Limehurst students worked alongside Year 8 students from Castle Rock High School in Coalville and were supported by an Undergraduate "Ambassador" and Dell staff. During the day we were taken on a tour of the impressive campus at De Montfort University which took in the brand new sports centre and swimming pool, student accommodation in a hall of residence and the art and design building,
A really interesting part of the day involved all of our students having the opportunity to experience cutting edge "Virtual Reality" technology which was a new experience for many of them.
The day concluded with every Year 8 student taking part in a team presentation focussing on the use of technology to solve pressing social and environmental issues. Our students all performed really well in this task and each received a certificate in recognition of their efforts.
Some photos of the event also show our students engaging and enjoying themselves.