Lateral Flow Testing in School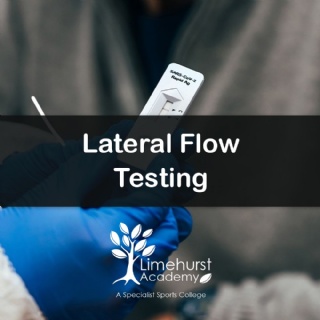 Testing for those without coronavirus symptoms is beginning across the country using new, quicker COVID‑19 tests known as 'lateral flow devices' (LFD). This page is to help give you more information about the testing programme in our school.
Up to one third of people who have coronavirus are asymptomatic. By testing we will help to reduce the spread in school through asymptomatic transmission. We are therefore strongly encouraging those returning to school to be tested.
The lateral flow tests are quick and easy to undertake, using a swab of the nose and throat or in some cases, just the nose. In this respect, the test is similar to a PCR test that is done in the NHS, at national testing centres or with home test kits. However, with an LFD test, results take around half an hour from testing as they do not have to be sent to a laboratory.
From the beginning of the Autumn term 2021, students will be issued with home testing kits. There are a series of short video clips to assist you with this; follow the link below.
Simple guides on how to self-test
You can find guides translated into several different languages, including Arabic, Bengali and Polish, here:
Translated self-testing guidance
To report a testing result to school, use the button below.
You can find additional information below, including FAQs. If your questions is not answered here, please contact the school office via office@Limehurst.org.uk.
The following documents relate to testing in school: